In today's world, it's very difficult for small businesses to stand against huge sharks in the market since longtime. Every small business who implements Local SEO strategies can definitely hold up a place in the market. Local SEO stands for Local Search Engine Optimization which helps brands and businesses to boost up their visibility to users searching on search engine platforms like Google, Bing, Yahoo etc. All small businesses who rely on user's interaction according to geographic area can have an end number of benefits with Local SEO. As local competitions are growing rapidly, it's necessary for these businesses to optimize their both Off-site and On-site SEO. Ranking on top of the search engines should be your main priority. Further in this blog, you will learn about 5 simple and crafty local SEO tips which each small business can implement to dominate the market. For maximizing the benefits of Local SEO, you can connect with the best digital marketing company in Texas.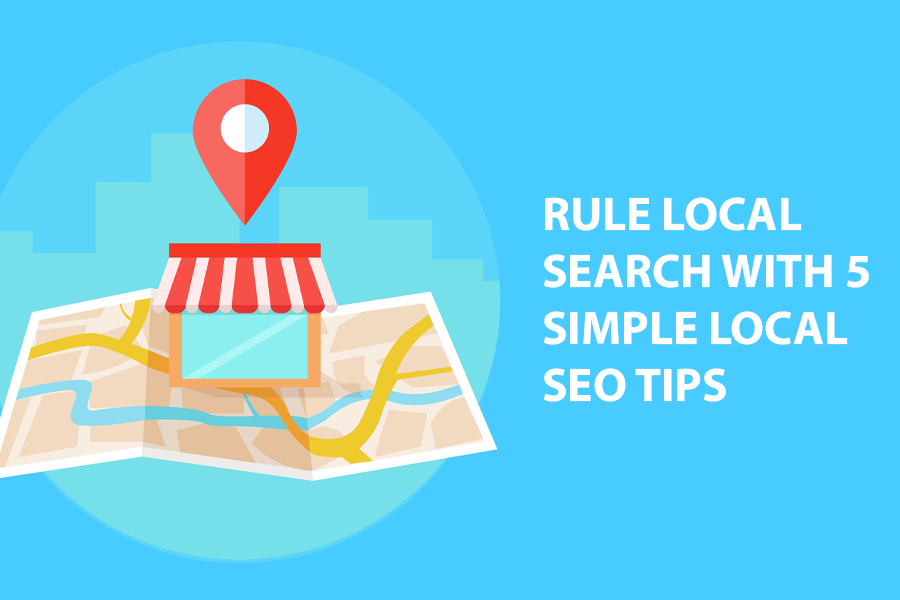 Build a service page for each service.
This is one simple tip for all service based businesses. Instead of having a creative one page for all your services, try and make one service page for each service you offer.
Why should you create service pages?
Creating a different service page allows you to manage and control according to the location and audience you want to target with the same service.
When you have one page for all services, the main problem you face is the space issue. To tackle this issue, businesses usually put a list of the services they offer along with a small paragraph containing information about those services. Doing this provides too much information about you and too little for the service they want, also it kind of leads to confusion between services. So always try and make one full page for each service as it will offer you more space for the information. You can include images, videos, comments etc. and it will attract a specific group of audience too. I know it's time consuming so do one at a time and eventually you will see what I am talking about.
If you aren't sure how to begin with or are unable to find the best content for your service or your product, you can refer to Texas SEO services for assistance. 
Use proper Title and Description Tags.
Both Title Tags and Description Tags play a very important role for your business. Both of these are HTML elements which can easily be customized according to the content of your website. Whatever content you input here as Title Tag and Description Tag will appear will be displayed on the search results of search engines. Consider both these tags as a short Ad for your business. It should be short, crisp and have the ability of gathering the attention of the consumers. If you don't put one yourself, Google picks one for you which can be quite misleading or ugly as it could mean anything.
Acceptable length of characters in Title tag are 50-60 and acceptable length of characters in Description Tag are 160-200. Keep this charter limit in mind whenever designing up these tags. Coming up with these tags is itself an art which requires full understanding of the business and its offerings.
Need help deciding your Title Tag and Description Tags? Hire the most popular online marketing company in Texas which is globally recognized for IT services and advertisements.
Make use of online directories and citations.
Another thing which is very crucial for a small business is that it should be listed correctly and consistently on the top of online business directories like Facebook, Citysearch, Yelp etc. as the online business directories always show huge traffic and provide a large number of online search results.
Not listing your business in the online directories will mean no potential consumer searching on these lists will ever see your business and therefore will not come to you for your product or service.
Also try and identify quality local directories to get listed in. For this you can check the website of the local newspaper you get. You will also want to try and find high-quality local directories to get your business listed. Put "Your city name directory" for finding out more local citations or sites or directories.
Make sure that your business information like name, address and phone number is also listed on the major citation aggregators like Data Axel, Foursquare etc. These data aggregators will distribute this information to many online directories. Always pay attention that your business information like name, address and phone number are the same on each directory.
If you need more information regarding online directories, you can connect with AdsRole, the best SEO company with the most affordable SEO packages. This digital marketing company has been globally recognized for its work.
Claim and Optimize your Google Business Profile (GBP).
GBP is one of the great strategies used by small businesses to boost up their sales and rank higher on the search engines as it is the only thing which meets with the consumer face to face. It is free of cost for any business.
Check and see if your business qualifies for a GBP Listing and then go claim your business. Claiming your business provides authenticity and helps consumers to trust you. Once you show up in the top 3 Google listings your business will start getting more traffic.
For improvising your GBP listing, follow the simple steps listed below
● Add business hours.
● Upload photos and videos.
● Answer all questions potential customers ask.
● Reply to reviews you receive.
● Include any products or services you sell
● Select categories.
● Write a solid description.
● Create posts.
If you are still facing problems with Google Business Profile, it's not a big deal, there are many online marketing companies which you can connect with and get these done easily.
Get reviews and show them online.
According to a survey in the USA, around 87 percent of the people have complete faith on the reviews they read online as compared with the reviews given by somebody personal to them. Online reviews are like diamond for a business and more like platinum if they have many 5 star reviews. Usually ten 5 star reviews are enough for your Google Business Profile (GBP) but having more will never harm you.
Whenever you provide a service or a product to a consumer, ask them to leave reviews for your business. Positive reviews show that you have a quality product or service, builds up trust and influences the consumer to buy from you. So please reply to these reviews with happy emotions and express your gratitude along the way. Whereas negative reviews show that they weren't happy or satisfied with the product. So to all negative reviews, reply with the words that you feel bad that you couldn't satisfy, ask them what the issue was and tips you can improve or do something to resolve that issue.
Reviews on Google Business Profile and Facebook Page needs the most attention, you can let go others if you have time constraints. You can make use of TrustPilot, GatherUp and Vendasta for keeping a track of these reviews.
It's difficult to manage everything on your own and because of time constraints it's impossible. Take out a little time and get in contact with AdsRole, the best SEO company with the most affordable SEO packages.
In Conclusion, Local SEO is far more important for small businesses than it appears. It is the only thing which could help any brand or business relying on users geographically. Ranking on top of search engines is itself an art and being the first one with the relevant information whenever a consumer searches for a product or service is a dream for small businesses. Local SEO involves many techniques such as building local citations, using local keywords, optimizing Google listings etc. Any small business which will implement the above mentioned 5 tips will gain a competitive edge over the others, will attract more walk-in traffic and ultimately will boost up their brand's reputation.