Website and especially the traffic on it plays a very major role in the performance of your business. Your sales are completely dependent upon the traffic your website gets. Downfall in anything sounds scary and downfall in your website's traffic is the worst. If the organic traffic of your website is decreasing then there can be many factors affecting it. After spending hours worrying about researching, we have found out that there are 10 factors which result in reduced organic traffic. All the factors responsible for sudden drop in traffic are given further in this blog.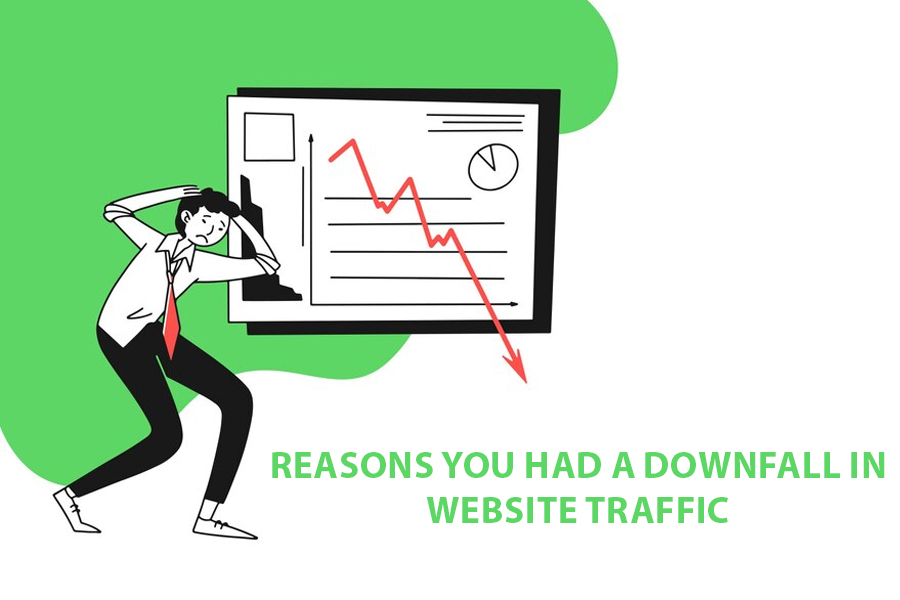 Outdated Keywords
Google is always updating the way of processing search queries, focusing more on understanding natural language and user intent. Users typically search using more common terms according to their local language. For example, instead of searching for "high-quality bluetooth speaker" they might search for "best bluetooth speaker" when seeking a repair service.
If you are facing a decrease in web traffic, create new content with updated keywords that are used keeping the recent trends and local language in mind. Doing such will improve your search rankings and ensure your content is relevant and visible to users.
Google Algorithm Update
If you are running a business website, it's common that you're facing difficulties in ranking in the top of the search engine platforms like Google's search results which means that you are dependent on Google algorithm which get changed constantly. As Google keeps on updating daily and monthly with only one aim that is to improve the search experience for users. Their algorithm matches users with the best relevant search results depending on the Search Engine Optimization (SEO). Sometime when updating, Google may completely alter the algorithm it uses.
For security reasons, Google keeps the "specifications of its algorithm changing" highly confidential, but press releases and announcements can keep you informed. There are few websites which provide updates of Google algorithm changes like Moz or SEMrush Sensor.
Hire the most popular online marketing company in Florida which is globally recognized for IT services and advertisements for assistance with SEO.
You're Utilizing Nofollow/Noindex Code
As you know that you can block anyone on social media similarly you can also prevent your own web pages from appearing in Google's search rankings. This is done by using a "nofollow/noindex" code in the Meta tag of your webpage. Doing such will stop Google from indexing your page and prevent it from appearing in search results. This will help you in avoiding duplicate content or in guiding users into the relevant information only.
When you are about to publish your content, leave the "nofollow/noindex code" in place or mark the "Do not index this page" box in WordPress to prevent Google from indexing your page and to stop driving traffic from your page. If you have just redesigned or relaunched your website, it's very necessary to remove the "nofollow" code.
Slow Website Speed
Website speed is another factor on which your success depends. A research study recently revealed that around 60 percent of users abandon a website when on a mobile phone if it takes more than 3 seconds to load. Your website loading time, it's working speed are all analyzed by Google before ranking your website. Test your web speed test for determining any issues that are degrading your website's performance.
Address the following issues promptly to improve your website's loading time and for providing a better user experience.
● Unoptimized CSS
● Large media files
● Excessive overhead
● Extra plug-ins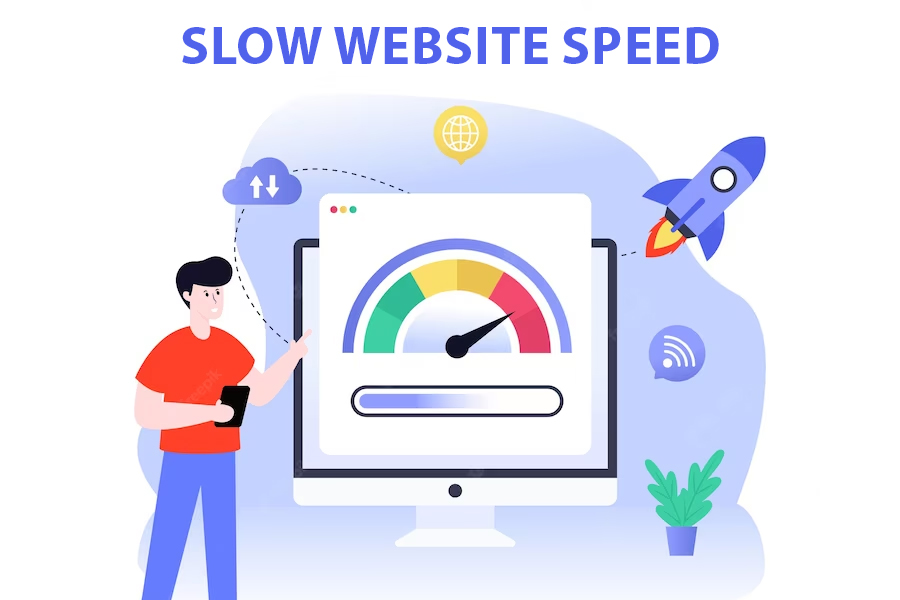 Misplaced Tracking Codes
Lines of text placed in a webpage's HTML or source code are called Tracking codes. They are used to gather data and insights from tools like Google Analytics. They need to be correctly placed in specific sections of the HTML code. If you don't consume HTML or JavaScript knowledge, you will inadvertently misplace a tracking code, resulting in reduced organic traffic. Professional webmasters and designers can also make mistakes with tracking code placement. It's important to rectify this issue as soon as possible because it will hold or decrease the traffic from this level. Always make sure the tracking codes are correctly placed to accurately track key performance indicators like website traffic, conversions, user activities etc.
Linking to Dead Links or PBNs
Linking more internal and external links as a new website designer or owner can also result in drop of traffic. Linking is important, but they can have negative consequences on your search rankings if you link to irrelevant data or content. Also, linking to websites which belong to Private Blog Networks (PBNs) can lead to huge penalties from Google.
PBNs in general are networks of low-quality websites created just to manipulate search rankings. Google pays full attention and comes up with an algorithm everytime for identifying and penalizing websites associated with PBNs. It's best for you to stay away from PBNs and take guidance from reputable SEO consultants and web designers. Continuously review your links and make sure they are functional and relevant. You can also use tools like Sitechecker and SEMrush to find any expired or broken links in your content and replace them with active ones.
Low-Quality Content
Generating and creating high-quality content on your website is a remarkable way to attract visitors and grow your customer base. Content marketing, if done correctly, is a cost-effective strategy. Some bloggers and businesses may go overboard with content creation resulting in low-quality articles having less depth, low word count, or offering little value to users. Google can easily recognize and discourage low-quality content that will impact your website's traffic negatively.
To analyze a sudden drop in website traffic, audit your content and remove any blog posts or articles which are now irrelevant or have low-quality content. Try creating well-researched content having SEO principles and the content with valuable information to your audience.
Need high-quality content, contact AdsRole, the best SEO company in Florida which is currently at the top of the search engines.
Over-Optimization
Keywords you insert play a crucial role in improving organic traffic to your website. But using too much of them can lead Google to have an impression that your website is more focused on marketing rather than user experience. Over-optimization will result in lower search rankings. Make a perfect balance between keyword usage and best SEO practices.
When creating content, make use of a Clearscope or SurferSEO tool to find the optimal number of keywords and placement of keywords, length of the article. These tools provide valuable insights to help you to improve your content significantly.
If you feel your business is lacking in optimizing, then connect with the best SEO services in Florida, the best digital marketing company.
Not Optimizing for SERP Layout
The Search Engine Results Page (SERP) layout is also very important for Google rankings. Any changes in the SERP layout, including the prominence of "rich snippets" as the first featured result, can impact your website's ranking both in positive and negative ways.
For improving your website's rankings, learn and adapt new SERP layout by making certain changes like using bold text to directly answer questions, using bulleted lists for valuable information, and by including useful graphs or images in your content.
Migration Issues
When you are redesigning your website or migrating to a new platform, it's important to prioritize SEO for preventing any type of loss. Removing a perfectly optimized content can drive traffic to a stop. While migrating, issues like lost or broken links and crawl errors are common so just pay attention and optimize.
If you are facing difficulties, take the assistance of professional web designers who can guide you through each phase while preserving your optimized content. Make a well-planned transition strategy in place to address potential crawl errors, broken links, and redirects that could affect your organic traffic.
To know more information about these reasons, get in touch with the best SEO company and let them know you need more reasons, they will analyze your business and come up with effective solutions before you will know it.
Wrapping UpAll the factors and reasons mentioned in this blog can contribute to a decrease in website traffic.  Monitor your traffic metrics regularly and try implementing best SEO practices and optimize your website accordingly. Always pay attention to delivering valuable content and on providing the user a smooth experience. After resolving all the issues in the blog, you will start noticing an increase in the organic traffic of your website. It's okay if it takes a little time to optimize but atleast you will boost up your traffic which will certainly increase your sales.