Generally the size of your business doesn't matter to take advantage of Search Engine Optimization (SEO). SEO is a very vast process and has so many areas to focus on like local SEO, Technical SEO, On-page SEO, Off-page SEO etc. Businesses improve their ranking on search engines platforms like Google, Yelp, Bing etc by adopting and implementing these SEO strategies. A big scale business can still find ways to tackle with less sales, or conversion rates for some time, also they spend a lot of money and efforts on optimizing their SEO. But a small scale business has scarcity of supplies and resources, he can face an unbearable loss if his business doesn't have a single sale in a month. Website is like gold for business as it enhances your online presence and brings traffic to your business. Later in this blog you will find a difference between small business SEO vs Local SEO and a few tips on how to improve your small business SEO.
Local SEO Vs Small Business SEO
Most people often get confused between Local SEO and Small Business SEO whether they are the same thing or different. Let me make it simple, both are very different. All businesses having a physical location can utilize Local SEO and get benefits from it but small business SEO can only be utilized by small scale businesses because of the strategies involved. Typically small scale businesses have a location so they also need Local SEO strategies. Both of the SEOs have some similar strategies so the following tips include both of them.
If you are a small business owner who doesn't have a business website then get an attractive, modern and easy to use website at the most affordable website packages from the best website designing company.
Advantages of SEO for Small Business
Following are the benefits of SEO for small businesses:
Better Awareness
When your business has good visibility in Search Engine Result Pages (SERPS), a greater number of people will view your website and that's how they get more aware about your business, your products, your services etc. Spreading awareness will also lead to better business in future.
Greater Traffic
After optimizing SEO, your online presence will skyrocket which will lead to more organic traffic to your website. For enhancing your online presence, make use of all social media platforms and Google Business Profile (GBP). When you will start receiving more traffic you will have a higher conversion rate too.
Better Target Audience Connection
Having a connection with your desired and targeted audience is a must. SEO offers a chance to connect with your audience at the initial stage of their buying process. With the perfect content you will be able to influence your audience.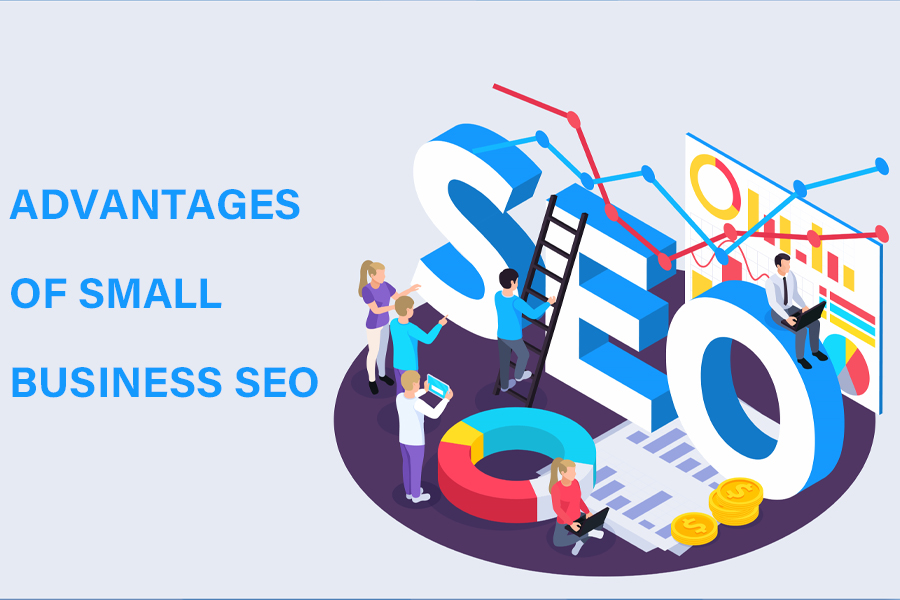 You Gain a Competitive Advantage
When you will be ranking at the top of SERPs, you will get the maximum traffic searching for your or your competitors products and services. SEO will provide you with more traffic than your competitor and hence you will be leading in your industry as more traffic means more sales which will help you hold your place in the market.
Your business can be open 24/7
Usually potential customers also have a busy schedule and this might lead them to order in non office hours like evening instead of morning. With such SEO your customers will be easily able to order from you 24/7 and hence your business will grow more than ever.
Small business SEO doesn't require a lot of money, what it requires is your time and efforts. Any small business struggling in the market please start optimizing with small business SEO strategies.
10 SEO Tips for Small Businesses to Boost Their Online Presence
Following are the most creative tips that will assist you in improving small business SEO.
Set Up Google Analytics
This is an analytic platform of Google which offers detailed information about the traffic, conversion rates and performance of the website. Utilize this tool for keeping a track of your progress and for understanding user patterns. It is absolutely free of cost. Google Analytics is important for understanding your users and how they interact with your site,
Set up Google Search Console (GSC)
GSC is a free tool provided by Google which offers data about the appearance of your business's website in Google search result pages. This tool will tell you any problems faced by Google and provides you an option to provide solutions regarding it. GSC is key for understanding how Google views your site and how it performs in the SERPs.
Set Up Your Google Business Profile (GBP)
GBP is also a free tool provided by Google and plays a very important role if you have just one physical location and usually depend upon walking traffic. This tool actually displayed your profile in the search result including information about you like your history, working hours, services or products etc. These are highly beneficial for the following businesses:
● Physical Stores
● Doctor Clinic
● Law Firms
● Restaurants etc.


Connect with AdsRole, the best SEO company in Texas, USA for help related to any of the tips in this blog, they are highly recommended by institutions like clutch and have helped more than 4300 clients out of which 60 percent were small businesses.
Do Keyword Research and Analysis
Make use of keyword research tools like Moz, Ahrefs etc to determine the exact search volumes of keywords (avg no. of times keyword searched in a month) and get an idea which keyword is working best and suiting your product or services. Shortlist keywords according to your target audience and keyword intent. After shortlisting keywords, map the keywords to content types.
Do Competitors Research and Analysis
Answer the following questions when conducting competitor analysis:
● Are your competitors ranking their homepage or a dedicated page at top of SERPs?
● How and what are keywords used on the page?
● How have your competitors structured their websites?
● What is the content on their website?
● What is their targeted audience?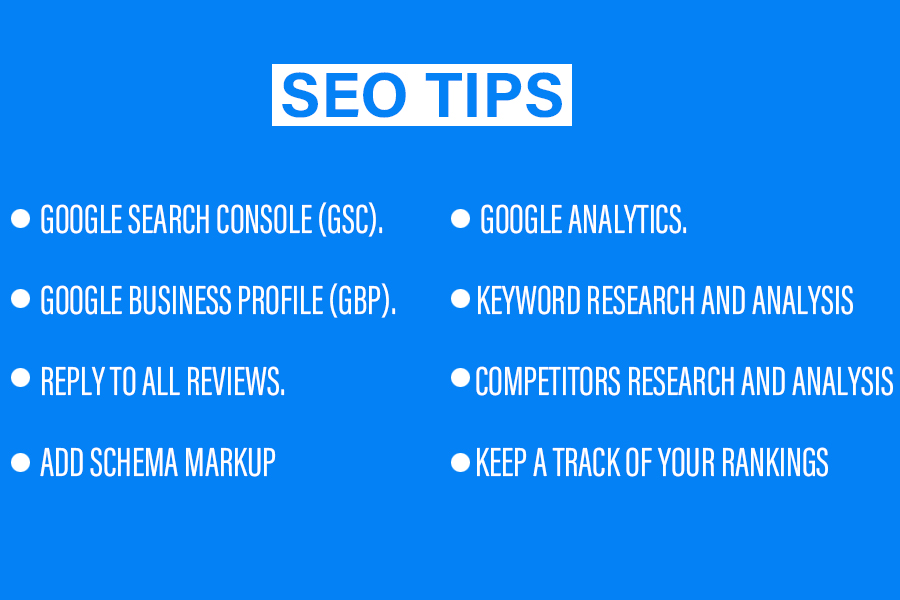 Reply to All Reviews
Reviews are both good and bad depending upon the nature of the review. The more reviews you have the easier it will be to gain trust of the consumer which is too valuable for your business. Always reply to every review. If you receive a positive review then express your gratitude and thank them for utilizing their time to give you a review. If you receive a negative review then be apologetic if you did wrong, but don't be authoritative or burst on the response. Keep it in an official respectable language at all times.
Keep a Track of Your Rankings
Monitoring the ranking and performance of your website is important if you want the benefits of SEO to keep pouring, Tracking ranking will also tell you how your long time efforts and investment has worked out. Use Google Analytics and GSC for regularly monitoring your rankings in different search engines.
Add Schema Markup
Schema markup is for enhancing Google's understanding of your Content on the website by organizing data in a specific manner and allowing page information to be easily visible in SERPs. Get in touch with AdsRole, the best SEO company in Texas which is recognized by Clutch as the best website development company and best On-page SEO company. Adding schema markup will help in increasing click-through rates and in bringing more organic traffic.
Optimize All Your On-page Elements
You should optimize all the On-page elements in order to improve your On-page SEO.
Title Tag
Follow the below given practices for writing creative Title Tags:
Titles Tags have a character limit of 55 to 60.
Use keywords which are targeting the right audience.
Keep Title Tag short and simple.
Your Title Tag should provide a brief meaning of what they are gonna find on your page.
Title Tag should have an ability to influence the user.
Meta Description
Meta description is the small briefing about your brand and product which is displayed right below the blue colored Title Tag on the SERPs. Try to include one or two keywords. Add CTA if relevant.
Check Your Website's Structure
As the term website's structure itself suggests, your manner of grouping web pages and content together is very important. Your only aim should be to properly navigate both search engines and users throughout your website.
You should always include header and footer.
For example, if you have a chinese restaurant in Florida, USA, you can use the following structure in the given order:
Menu page
About page
Online reservations page
Contact page
Blog where we could post articles or news about our business (optional)
Gallery of images (optional)
If you have more than one location then use URLs like "chinese-restaurant/(different city name/ for each location".
Wrapping Up
Small businesses improve their ranking on search engines platforms like Google, Yelp, Bing etc by adopting and implementing the above mentioned SEO strategies and tips. So just pay attention while working on each tip and be creative. I am sure if you work on improving your small business SEO then you will start seeing results in three-four months. If you are facing difficulties in improving SEO for your small business then connect with the best SEO company in Texas, USA.