As we say farewell to 2022 and welcome 2023, it's time to review notable changes in the online marketing industry. Digital marketing companies have come a long way in the last few years. It is taking shape after the evolution of computing and business intellect systems. An online marketing company has altered how brands tell stories and communicate with their audiences. It is central to almost every brand's marketing mix and media plans. With careful observation of the recent past and without launching into predictions, industry professionals can offer insight into some potential developments.
According to professionals, the most prominent online marketing trends will boost the sector this year with a focus on all things related to content visualization. They will significantly affect the customer experience and employee engagement.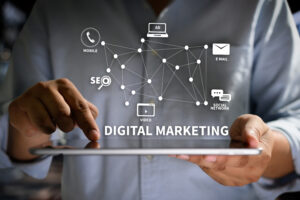 The Next 5 Significant Digital Marketing Trends In 2023
With evolving technologies, algorithm updates, and tools, you can increase visibility and organic traffic by connecting with the best SEO company. Build a brand with your social media presence and sell more with a well-managed PPC campaign. Let's read about some crucial trends you must follow in 2023 to get the best results from online campaigns. 
Reevaluating Customers Insight 
Most consumers switch between multiple devices, and providing an allied experience across all devices is vital. Moreover, centralizing critical information about the business and distributing information across all marketing channels is necessary for a seamless connection with your potential clients. Furthermore, according to a study, customers are concerned about their privacy and look to brands to ensure their data is not shared. 
Conversational Marketing
Conversational marketing is a tactic that involves consolidating conversational elements such as quizzes, polls, and calculators into your online content. It helps capture attention and engage users on a deeper level. It creates a real-time conversation with customers to build relationships, increase engagement and even make sales. Conversational marketing aims to create unique experiences for each user by providing an interactive experience through chatbots, voice search, SMS, and other digital channels.
A Focus On Foundations
With the rapid growth of an online marketing company, we should never forget the foundation. We should not get distracted with AI and metaverse as the reality of internet marketing is that the foundations of online marketing still provide significant results for most businesses. Foundations like your website, social media, SEO, email marketing, digital ads, community management, and reputation management will disproportionately contribute to your results.
Boost In Social Media Trend 
With nearly 1.5 billion social media users worldwide, it's a market that must be taken advantage of by bringing your businesses online. Social media trend has brought a drastic change in online marketing strategies. Social media is known as the best way to communicate with your customers. With the help of SMO, an online marketing company can uplift your brand's reach impressively. Moreover, social media is one of the best ways to reach your target audience. 
Short-Form Videos
Short videos like Instagram reels and youtube shorts are taking over social media feeds and grabbing consumer attention. There is no question that this format will only continue to grow. Promoting your business with short videos is one of the most influential and convenient ways to grab customers' attention. 
Skyrocket Your Sales With Digital Marketing Trends In 2023!
So what's the takeaway? AdsRole digital marketers will keep tabs on search in 2023 and develop an excellent SEO strategy for your business. If you get too comfortable with how you're currently doing business, the competition will leave you in the dust. Therefore, you need to hire one of the professional and best digital marketing company with years of industry experience. Visit our website and explore various services that can skyrocket your business sales.